The wonderfully weird approach of Clay Marzo's backhand tube, Slater in Uluwatu and a new wave pool (not good …)!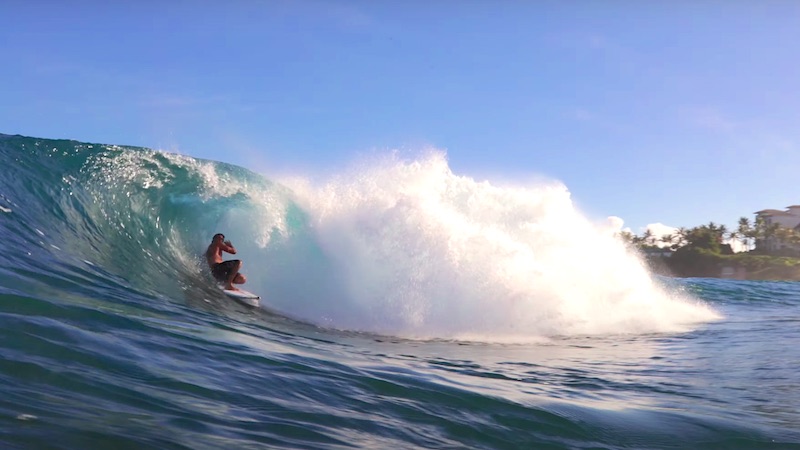 1. Clay Marzo's Reverse Tube Masterclass
Something amazing is happening in this clip that I can't quite put my finger on. Its simplicity, its brevity I'm not sure, but it's so spellbinding and puts me in such a state of calm that I think I'll be seeing it a hundred times before the 2020 release. The Strange Wave, the cover of the Pixies piano, the way Marzo is able to contort his body into multiple shapes in one ride without thinking of it like the octopus in My octopus teacher… It's lightning in a bottle.
2. Stoke Out on Billy Lee Pope's showreel
Spose we should… Raw clips from the Surfers of Bali YouTube channel bring us more Indonesian exploits from the 11-time world champion. This time from Ulus.
4. La Nina should be stronger than we thought
Coastalwatch chief forecaster Ben Macartney is excited. I think. Can be hard to tell with Ben. But it seems that we are this season for a very serious storm activity (reading, inflating…).
"It's official. We are now in the early stages of a true La Niña event," Ben writes, "An event that is expected to last throughout 2020 and at least until the first quarter of 2021. On top of that , we have seen a noticeable shift in the direction of the climate model surrounding the ENSO outlook. About half of the models now predict a strong La Niña: somewhat more reminiscent of the last big event that took place in 2010 and 2011.
If you remember the 2010/2011 swells on Australia's east coast, it should get you looking at your surfboards and wondering if maybe you could just need one or two more … Read the full forecast blog here.
To the tune of 'The Girl From Ipanema': "Wet and wild and big and windy, the swell of a La Nina is pumping …"
5. Wade Clemens gets rinsed
You have to love a surfer who names his new music video "Rinsed" and then opens it with him to get exactly that on a Shippies Bombshell. It's heavy sound, hard load, concrete feed, donuts in the parking lot type of a Central Coast surfer worth watching.
6. Speaking of Wades, this is Wade, Dane and Harry
Another part of the B-sides of Wade's film Pentecost. This time it features elite shredding of Mentawai Island perfection, similar to a machine. I'm not sure we'll ever get enough of Dane Reynolds' approach to wave surfing. "Phwoarr" – constantly inducing.
7. France was shooting
The beachies of Hossegor, to be more precise, were shooting. Explains Surfline: "October in France is one of the best months of the year. The water is still reasonably warm, the North Atlantic sends a constant swell to the famous sculpted sandbanks of the Bay of Biscay, and the summer crowds are gone. That's why they used to have the MOT at this time of year here.
The pro francophone surf group of Michel Bourez, Jeremy Flores, Joan Duru, Marc Lacomare, Ramzi Boukhiam, Aritz Aranburu, Justin Becret, Marco Mignot, Miky Picon, Maxime Huscenot and many others appear at the barrel-fest.
8. TC gives me the impression of foiling?
When two-time world champion Tom Carroll starts talking about something, it's hard not to share his enthusiasm. In Tim Bonython's latest clip, he and Matt Grainger describe the surreal feeling foiling him gives them as they make their way to the unused, unsurfaced reefs around their inhabitants. The foil has been the subject of some criticism since it became a more regular feature of line-ups on the Australian coast, but used that way, away from other surfers and defined line-ups, you can really see it. the biggest allure.
"The payoff is incredible," TC says in the video below. "You get that kind of glide that's uninterrupted and taps into the spring of nature that's so bountiful and beautiful and powerful, and all of a sudden you're sliding on it, and that just takes you for what seems to be rolling effortlessly. … And you don't use anything other than this foil, it's just below the surface, it fascinates me because I've been surfing waves all my life.
9. The episode of RIVALS by Kai Otton
We now come to the home stretch of the rad show RIVALS, this is episode 9 (of 13). This week it's Rip Curl Pro Portugal 2013 winner Kai Otton – who has been described by Sean Doherty as the George Costanza of pro surfing – because he has a crack on a delicate slab near his home. You can vote and mark all three waves of Otts on mysurf.tv/rivals .
10. Wave Pool News: A new opening in New Jersey
While South Korea has just launched perhaps the largest swimming pool on the planet to date, New Jersey has opened theirs to the public. It looks… not very good.