Yago Dora saves the Tahiti Pro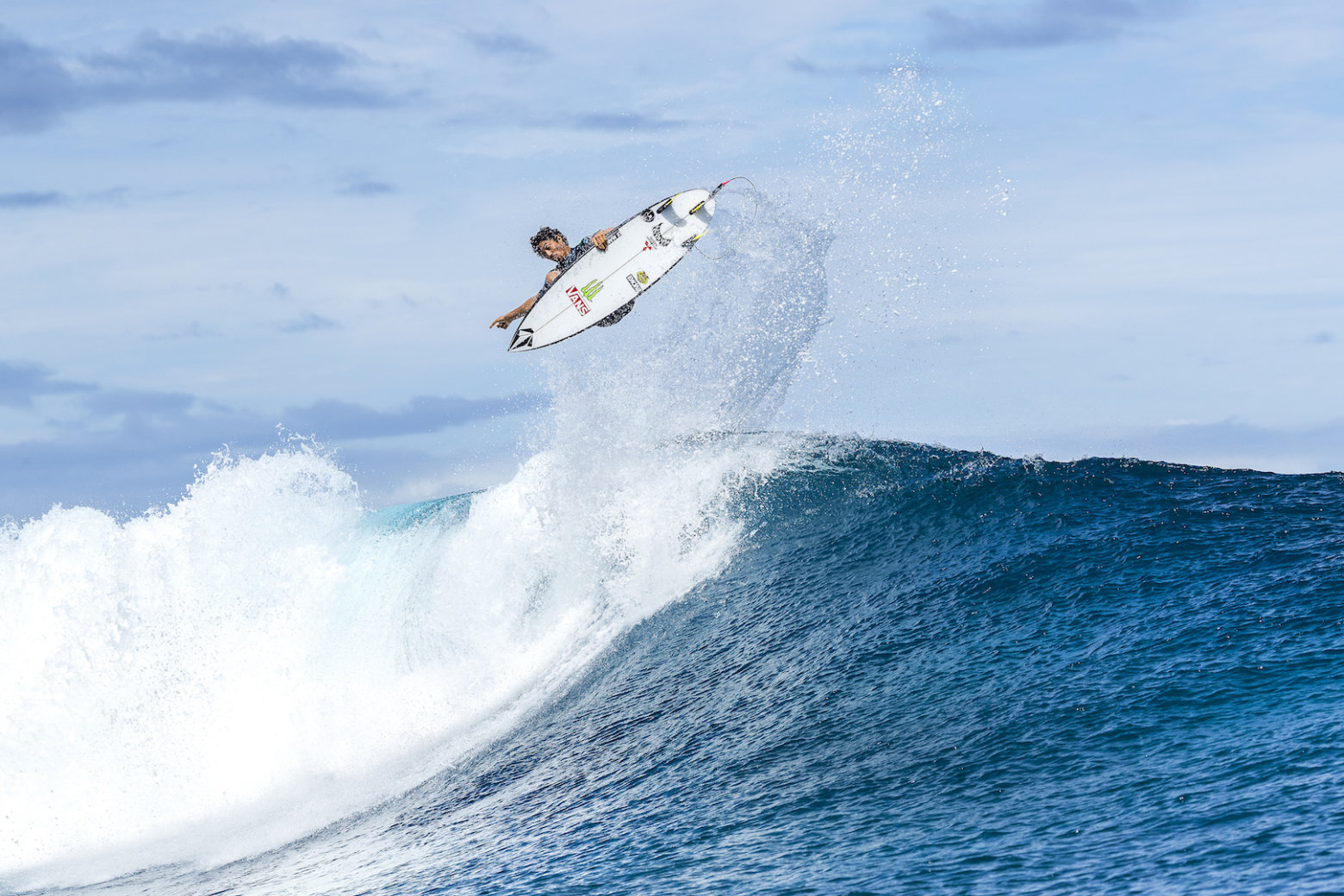 Somewhere in between Mikey Wright's provocative reef rumble and Peter Mel checking that indeed that was the judges' intention from the start, it all became so clear: the turns, not the hits, would get the score today.
Now if this alarm had been sounded yesterday, Julian would not have coveted the priority while waiting for a 1.84, and he would still defend his Tahiti Pro title at this time. But it was not. And he did. So it is not.
Wait for that set of bombs? No, more like grabbing whatever is flowing along the reef and smashing it until there's no water left to put out. A lot of the guys barked – Jeremy, Ian – and falling into a big slab of boomerang tankards suddenly seemed like a relatively safe proposition. The bastard simply ignored the reef, entered the six for a distinctly dirty hookup, and devalued Pupo's tube game. "Running on thin ice indoors," Wright said afterwards. "I was in dry dock but still landed at the turn."
But that doesn't mean there weren't any barrels there today – Owen and M-Rod both went to the seven for undeniably good tuberids – but they were in short supply. Also, it wouldn't be entirely disconcerting if this year's Andy Irons Most Committed Performance Award went to whoever rocked the nastiest AI float on dehydrated coral. But with a little more southerly in the swell than Commissioner Perrow would prefer, and a pesky wind looming, the heats were wisely reduced to 30 minutes. Given the forecasts, the time had come to close ranks.
Jeremy Flores. Video: WSL
The results were believable, if not predictable, but no less heartbreaking for the losers. Wilko looked like he was crying and Coffin looked like he wanted to strangle someone. But if you were to get upset for today, it would be hapless rookie Jesse Mendes ripping a runner to the end, blow his tail at the end bank, and knocking out Seabass in the last minute. Even the happiest professional surfer in the world hit the water in frustration.
Kanoa Igarashi. Video: WSL
It wasn't the strangest thing about today, however. The strangest thing was that no one really kicked a goalie until the last inning of Round 2, when Yago Dora had the first excellent score of the day, 8.5, and the most Heat total. Student. I don't know what the other 17 surfers were waiting for all day. Don't tell me that Teahupo'o is not an air wave.
We are in 2018. Every wave is a wave of air.
Yago Dora. Video: WSL
Tahiti Pro Round 2 remaining results:
Heat 4: Mikey Wright (AUS) 10.83 beats. Miguel Pupo (BRA) 8.33
Heat 5: Ian Gouveia (BRA) 12.27 defeated. Griffin Colapinto (United States) 11.06
Heat 6: Owen Wright (AUS) 14.27 beats. Joan Duru (FRA) 6.00
Heat 7: Michael February (ZAF) 7.67 d. Conner Coffin (United States) 7.60
Heat 8: Michael Rodrigues (BRA) 12.90 beat. Keanu Asing (HAW) 11.37
Heat 9: Kanoa Igarashi (JPN) 12.17 beats. Matt Wilkinson (AUS) 10.37
Heat 10: Jeremy Flores (FRA) 9.90 beats. Patrick Gudauskas (United States) 9.70
Heat 11: Jesse Mendes (BRA) 10.03 beats. Sébastien Zietz (HAW) 9.70
Heat 12: Yago Dora (BRA) 14.57 beats. Tomas Hermes (BRA) 7.83
Tahiti Pro 3rd round matches:
Heat 1: Jordy Smith (ZAF) vs. Michael February (ZAF)
Heat 2: Michael Rodrigues (BRA) vs. Ezekiel Lau (HAW)
Heat 3: Wade Carmichael (AUS) v Jesse Mendes (BRA)
Heat 4: Owen Wright (AUS) vs. Joel Parkinson (AUS)
Heat 5: Adriano De Souza (BRA) vs. Kanoa Igarashi (JPN)
Heat 6: Filipe Toledo (BRA) vs. Tikanui Smith (PYF)
Heat 7: Gabriel Medina (BRA) v Wiggolly Dantas (BRA)
Heat 8: Kolohe Andino (United States) vs. Frederico Morais (PRT)
Heat 9: Mikey Wright (AUS) vs. Yago Dora (BRA)
Heat 10: Michel Bourez (PYF) vs. Connor O'Leary (AUS)
Heat 11: Adrian Buchan (AUS) vs. Jeremy Flores (FRA)
Heat 12: Italo Ferreira (BRA) v Ian Gouveia (BRA)
Official Surfline Event Predictions:
Brief overview: Unfortunately, there is still no significant swell for the remainder of the event window. The discoloration of the remains of the old southerly swell on Tuesday; still looking questionable at first, but becoming smaller and less constant throughout the day, as well as the onshore wind picking up. New / modest SW swell expected for Thursday with favorable wind conditions. Another small scale WSW-SW swell from Saturday PM 18 to Sunday 19, then maybe yet another small scale SW swell on Tuesday 21.
Analysis: The current / weak southerly swell (190-175 °, mostly 10-11 seconds) will subside over the next two days. The waves at Teahupo'o fall to waist, chest and shoulder height Tuesday morning (strongest early), and slowly get smaller and less consistent throughout the day and into Wednesday. Clean / glassy conditions for at least the first half of Tuesday morning, before a light + to moderate coastal breeze develops for the remainder of the day.
A decent-looking storm recently moved south-east from Tasmania to Antarctica, but unfortunately most of the resulting swell was also headed for Antarctica. Thanks mainly to angular spread, just look for a modest mid-range SW swell (220-205 °) to slowly fill above Wednesday and end on Thursday, bringing occasional sets of chest height to Teahupo ' o. NOTE – Expect this swell to be rather inconsistent with occasional lulls. This swell will then ease slowly on Friday and over the weekend. Clean conditions expected for this swell with favorable ESE exchanges.
Meanwhile, a small low currently oscillating beneath Tahiti will produce minor / secondary swell moving southwestward on Wed-Thu-Fri. It is mostly knee high waves that will come from there, mixing with the swell described above.
Further afield – A small-scale low has recently developed in the Tasman Sea and aims to move across the North Island of New Zealand within about the next day. Although not very strong, a 20-25 knot + fetch has already set up for Tahiti over the North Island of New Zealand and will remain intact as the storm spreads into the Southwest Pacific. Then shortly after, this low / fetch should go out. At this point we are just looking for a small WSW-SW (240-220 °) small scale swell for a shorter period, filling up on Saturday 18. Expect this swell to end on Saturday night and hold until to Sunday 19 with high waves at the waist and shoulders at Teahupo'o. That energy will then fade at the start of next week. In addition, favorable offshore winds are expected for this swell.
Beyond That – Over the next 2-3 days we will be looking for a stronger storm to develop below the Tasman Sea, just south enough to be out of the shadow of New Zealand and in the Tahiti swell window. If this storm behaves as currently expected then a better and longer SW swell (220-210 °) will slowly set in during the first half of next week. Recently, the models have been consistent on this storm / swell event, but still some strength / size uncertainties. At this point, confidence is low for it to be better than the swells described above, at least for Tuesday the 21st (the last day of the event window), as the best of this swell is expected to show up. 22 to 23. We will need a few more days to see how things unfold. Hopefully this storm develops earlier and stronger. Stay tuned. – Jonathan Warren